Dumpling and Noodle House —––Dumpling with heart .
Simple And Delicious .
Well come to Dumpling And Noodle House , Potts Point Website.
We serves fresh hand made dumplings daily to our customers
since 2002 .
All our meat and Vegetables are fresh get from the Local butcher
shops and markets every day .Make sure the freshest you can
get . We are not just makes dumplings , we also do–- hand
stretched Noodles soup , spicy squid , honey , lemon or spicy
Chicken and more . Come and visit us or Download our menu .
Address : Shop 1 , 165 Victoria Street
Potts Point . NSW
Phone : 93269639
Trading Hour :
Mon–Saturday : 6pm —10pm
Sunday & Public Holiday : Close
Dine in Or Take Away .BYO .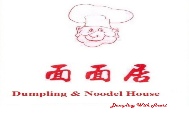 Copyright © 2013 Dumpling & Noodle